Our very own Trash Puppets show - Escape From Trash Mountain!

Created by Ben Anderson, Jhess Knight, Amy Moule, Jacob Williams, Jess Davie, and Peter Nielson. Using puppetry and rubbish they deliver an epic tale of trashy proportions.
A puppet show with sustainability at its heart, Escape From Trash Mountain is a poignant look at how good relationships and fervent optimism are the key to saving our planet. The show's central set piece is a large mountain of trash that transforms into a cave and becomes the epic playground for our heroes to fight trash bats, navigate treacherous ravines, and outwit hideous trash monsters!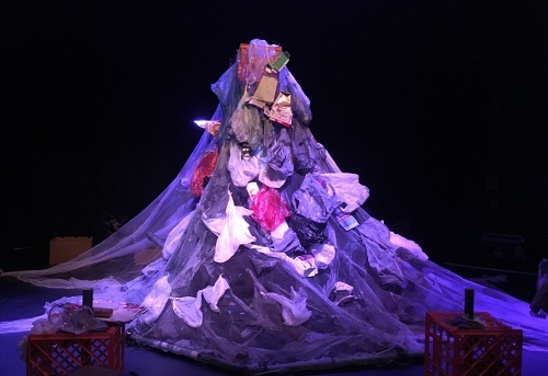 Two performers operate 17 different puppets and facilitate all set transformations to bring the show to life. It runs approximately 40 minutes in length and can be immediately followed by a Trash Puppets workshop where the audience has the opportunity to make their very own Trash Puppet, guided by our expert puppet-maker performers.

Escape From Trash Mountain premiered at Auckland Live in September 2017 as part of their Pick'n'Mix program, followed by a season at the Melbourne Fringe Festival, where we were nominated for "Best Children's Event"" in the Fringe Awards. The show then toured back to NZ for another season at Auckland live as part of their program "A day at Auckland Live". Escape From Trash Mountain has since been performed in schools, theatres and events all over Victoria
Escape from Trash Mountain is now available for bookings, for your school, theatre or event, in Australia and New Zealand.
For more information or to book the show for your venue, school or event contact us now